ain't she sweet?...

i have loved this photo of her forever... finally glad to have an idea to scrap it!! took me a couple days, but i think it turned out sooo cute :D

do you think the letters stand out enough? i'm still trying to decide....

tfl, i'm gonna keep doing mono pages in the tradition of the "sunshine" page... :D

ps - sorry for the bad scan; it looks a little "washed out" to me... hard to see details well!!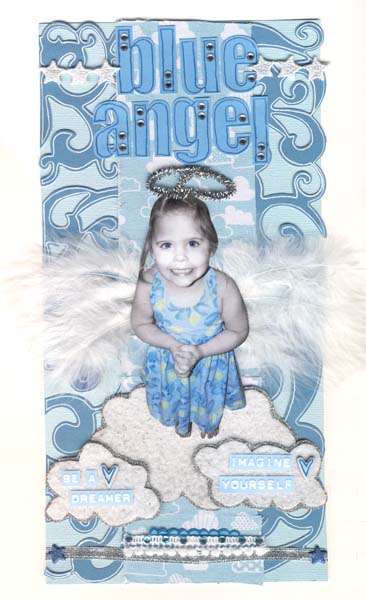 blue angel
SUPPLIES:
---------
* Cardstock - Colorbok
* Lace Cardstock - KI Memories
* Fabric Paper - KI Memories Love, Elsie
* Felt / Feathers / Pipe Cleaner - Michael's
* Glitter Paper - Darice
* Brads / Star Ribbon - Making Memories
* Alpha - Bo Bunny
* Ribbons - Offray; Rusty Pickle
* Bling - Wal-Mart
* Stickers - KI Memories Love Elsie; EK Success
* Chips - Heidi Grace
* Sakura Gelly Roll - White; Blue Glitter
* Photo by
Shannon Jones